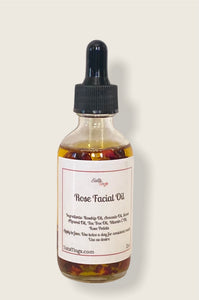 Rose Facial Oil
 Our Rose facial Oil is formulated to help eliminate acne, helps boost collagen formation, helps protect against sun damage, reduces the appearance of wrinkles and fine lines, adds moisture to dry skin.
Ingredients: Rosehip Oil, Avocado Oil, Sweet Almond Oil, Tea Tree Oil, Vitamin E Oil, Rose Pedals
Directions: Apply drops to your finger tips and massage onto skin. 
Recommended Use: Morning ☀️  |  Night 🌑

Disclaimer: Skincare is not one size fit all. Test of a small patch of skin before continued use.